"SHINY MODEL" Vengi&Ceviz Sedefli UD (Walnut & Wenge OUD - PEARL DECORATE)- HEZ OUDS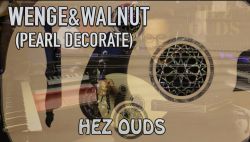 Yine farklı bir Vengi-Ceviz Sedefli modelimizi sizlere tanıtmak istiyorum... Sedef işlemelerini büyük bir kafes şeklinde yaparak farklı bir HEZ OUDS tarzını sizlere sesi ile tanıtmak istedik.. Ses ve rezonansı her zaman olduğu gibi kendi frekans tekniğimizle ortaya koyarak üst sınıf bir Ud'u sizlere sunuyoruz... Her bastığınız perdenin kendi iç dinamiğini oluşturan notaları duyarak ud çalmanın keyfini yaşamak için HEZ OUDS sizlerle...
      Again, I would like to introduce you to a different Wenge-Walnut Pearlescent model ... We wanted to introduce you a different HEZ OUDS style with its sound by making mother-of-pearl embroidery in the form of a large lattice. We present you a top class oud by revealing the sound and resonance with our own frequency technique ... HEZ OUDS is with you to enjoy playing the oud by hearing the notes that make up the inner dynamics of each pitch you play.