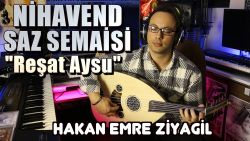 English and Turkish Explain:
      Sizlerden gelen istekler doğrultusunda çok kıymetli "Reşat Aysu" üstadın baş yapıtlarından olan Nihavend Saz Semaisi'ni sizlere özel üretim (Vengi&Ceviz - Sedefli) udlarımızla sunmaktan gurur duyarım... Teknik eserleri olabildiğinice hayatımıza alıp saz musîkimizi ileri taşımamız gerek. Fakat ne yazık ki giderek yaygınlaşan popüler kültür bizi bu kavramdan biraz uzaklaştırmaktadır. Elbette her müziğin kendi içinde değeri ve önemi vardır. Ama Saz (Enstrumantal) müziğimizi asla unutmamalı ve bolca çalışarak çıtayı en yukarıya taşımalıyız. Reşat Aysu hocamızın eserlerini mutlaka her enstrüman çalan kişilerin icra etmesi gerekmektedir. İster batı çalgıları isterse Türk müziğimizin çalgıları ile olsun.. Ud hakkında sormak istediklerinizi bana mail yolu ile ya da instagram ve facebook üzerinden sorabilirsiniz. Keyifli dinlemeler dilerim... HEZ OUDS sizin için...
        For English;
       In line with your requests, I am proud to present you Nihavend Saz Semaisi, one of the masterpieces of the very precious "Reşat Aysu" master, with our special production (Vengi & Walnut - Pearlescent) ouds ... We need to take technical works as much as possible into our lives and carry our saz music forward. But, unfortunately, the increasingly widespread popular culture distracts us a little from this concept. Of course, every music has its own value and importance. But we should never forget our Instrumental music and we should raise the bar by working extensively. The works of Reşat Aysu must be performed by those who play every instrument. Whether with western instruments or the instruments of our Turkish music .. You can ask me what you want to ask about the oud via e-mail or via Instagram and Facebook. I wish you enjoyable listening ... HEZ OUDS is for you ...